Looking for Electrical Contractors Near Me? We Are Sydney's Local Commercial Electricians
From Data Cable to Building Construction Electrical Installations – We Do It All
Have you been searching online for 'electrical contractors near me'? When you need certified and licensed commercial electricians, call Lightspeed Electrical. We are relied upon for small and large projects across the Sydney region. From data cable installations to complete building construction electrical installations for new estates – we do it all. Not only that, but we also work efficiently and to exceptionally high standards without loss of quality. Our work is not limited to commercial clients. We also service the industrial sector and residential clients.
Local Sydney Commercial and Industrial Electricians and Contractors
We are based in the heart of Sydney's central business district near Town Hall Square. From Strathfield to Hornsby and down to Sutherland Shire (and everywhere in between), we provide quality electrical services to all Sydney areas.
Contact us by phone (1300 968 551) or online today.
Quality and Professionalism Is Our Promise
With over 15 years of experience in the electrical services trade, we have you covered no matter the project size. We pride ourselves on our professionalism and the quality of results we deliver, meaning you can expect a job well done – every time.
Learn about our full range of services.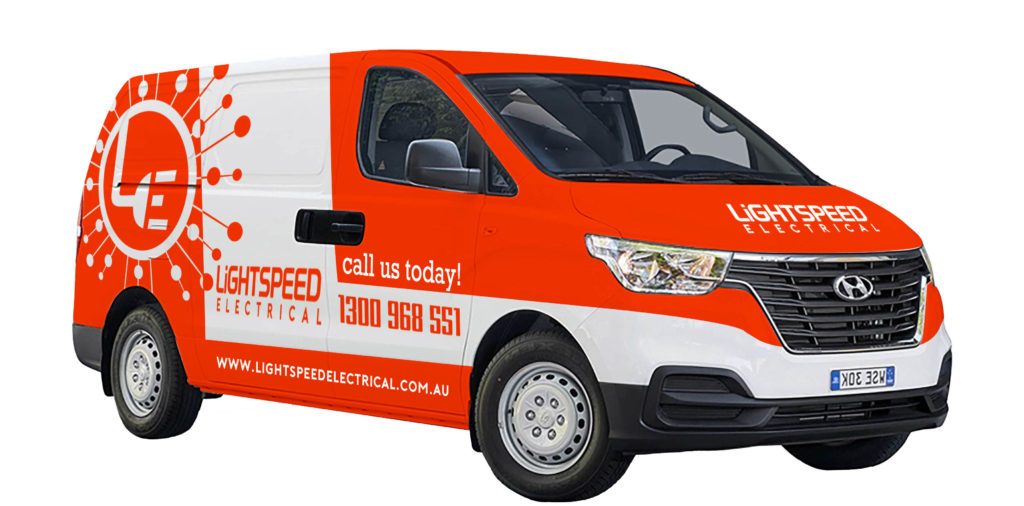 Understanding the importance of using a qualified commercial electrician
and why regular electrical checks are so important.
Serving Sydney's electrical needs
Lightspeed Electrical provides quality electrical services to all areas of Sydney, specialising in commercial fit-outs and new multi-complex residential estates. However, our attention to detail isn't limited to these areas – we also provide the same level of service and experience to a diverse range of electrical projects.
Reliably diligent without fail
Our reputation was founded on the principles we apply to every one of our projects: reliability, diligence, and nothing but the highest standards for our clients – all while ensuring we deliver on time, every time. If there's one thing that sets us apart from our competitors, it's our professionalism.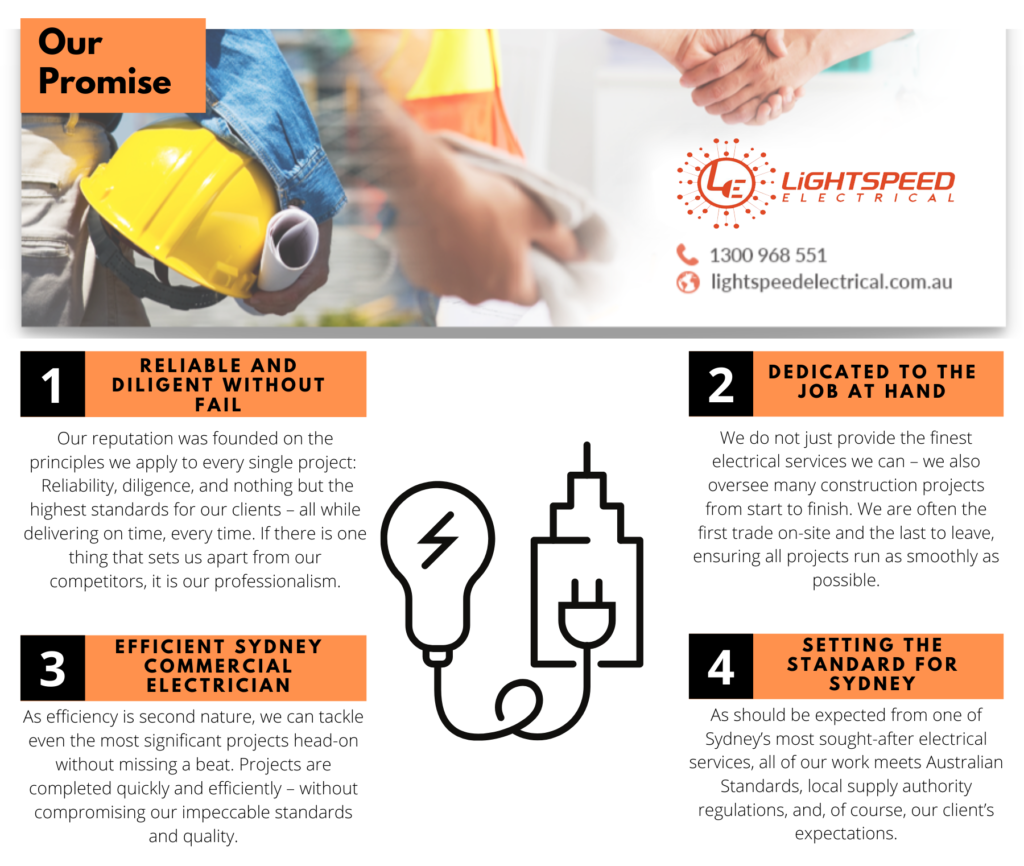 Dedicated to the job in hand
We don't just provide the finest electrical services we can – we also oversee many construction projects from start to finish. Lightspeed Electrical are often the very first trade on site while also being the last to leave, ensuring all projects we're involved in run as smoothly as possible.
Your efficient Sydney commercial electrician
At Lightspeed Electrical, we always abide by our deadlines. As efficiency is second nature to us, we're able to tackle even the largest projects head-on without missing a beat. Ensuring a project is completed as quickly and efficiently as possible – without compromising our impeccable standards and quality – is what we do best.
Setting the standard for Sydney
As should be expected from one of Sydney's most sought-after electrical services, all projects completed by Lightspeed Electrical meet Australian Standards, local supply authority regulations, and, of course, our client's expectations.
One of our proudest moments
Lightspeed Electrical were contracted to fit out Australia Post's head mailing centre in Strathfield – without disrupting their service – all on a strict 8-week deadline. While many of our competitors would run for the hills when presented with such a task, we took it in our stride and faced the challenge head-on.
This high-end fit-out consisted of a complete strip-out and redesign of staff amenities, training rooms, meeting rooms and gaming rooms, all to be completed within 8 weeks, while also ensuring Australia Post staff could operate at full speed.
The most challenging aspect was the fact that Australia Post work around the clock to ensure mail is delivered on time. As productivity cannot be maintained when a business's power is lost for any specific amount of time, we needed a plan. Using our many years of experience in providing quality electrical services, we carefully developed and implemented a strategy to ensure Australia Post could continue without any loss of productivity.
We carried out the installation of all electrical wiring, including: switchboard upgrades, data and communications, automated control wiring, AV caballing, installation of all lighting consisting of general LED office lighting, a monitored emergency lighting system, architecturally designed pendent lighting and feature lighting – all without disrupting Australia Post's busy schedule.
Our team went above and beyond during this project, and it gives us great pride knowing that Lightspeed Electrical can deliver these results – no matter the challenge.
Our team went above and beyond during this project, and it gives us great pride knowing that Lightspeed Electrical can deliver these results – no matter the challenge.
See what other projects Lightspeed Electrical have completed.
Is Your Electrician Licensed and Insured?
Be sure to check your electrician is licensed on the Fair Trading website and insured. All electricians in NSW must be licensed to undertake electrical work(*3,4).
References
*1. Darcy, M. Housing Sydney. Dictionary of Sydney. 2008.
*2. Safe Work NSW. Electrical Risks at the Worksite: Fact Sheet. NSW Government. 2021.
*3. Electrical Regulatory Authorities Council (ERAC). Electrical Licensing. 2021.
*4. NSW Fair Trading. Electrical. NSW Government. 2021.
Alex from Lightspeed showed tremendous level of expertise through the many phases of our shop fit-out, from concepts right through to installation and execution. Alex and his team is reliable, easy to work with, and also shows great passion and dedication in their trade. I have personally worked with Alex on a few projects now, and will definitely be confident to recommend to others.
I am writing to thank you for another successful BTF project thanks in part to your company's ability to go above and beyond the norm in customer service. The way your company handled a difficult build and complete in the impossible time frame was extraordinary. It appears that nothing seems to phase you and you were prepared to do whatever it took to complete this project before the designated completion date in spite of numerous changes.